Los Angeles, the City of Angels, is not just a hub for entertainment and culture; it's also home to some of the most diverse and unique venues perfect for hosting a memorable baby shower. Whether you're envisioning a beachside celebration or a sophisticated soiree in a historic mansion, LA has the perfect spot for you. Let's delve deeper into the best places in this vibrant city to celebrate the upcoming arrival of your little one.
Why Los Angeles?
Los Angeles offers a plethora of diverse venues, from modern lofts to historic sites, catering to every style and preference. The city's diverse landscapes, from beaches to gardens, provide stunning backdrops for any event. Moreover, the rich cultural tapestry of LA allows hosts to embrace a venue that reflects the city's heritage, making each baby shower unique and memorable.
Top Baby Shower Venues in LA
Restaurant
From upscale eateries in Beverly Hills to quirky cafes in Silver Lake, LA's culinary scene is vast. Restaurants can provide a hassle-free experience, with catering and decor often included in the package. When selecting a restaurant, consider the cuisine, ambiance, and whether they offer private dining areas for more intimate gatherings.
Home
Hosting a baby shower at home provides a personal and intimate setting. It allows for complete customization, from decor to menu. The comfort and familiarity of a home setting can make guests feel more at ease, fostering genuine connections and memorable conversations. When considering your home as a venue, think about the available space, potential seating arrangements, and whether indoor or outdoor settings would be more appropriate based on the weather.
Local Park
Los Angeles boasts numerous beautiful parks, like Griffith Park or Echo Park Lake. Parks offer a natural beauty and open space that can be both relaxing and playful. They're perfect for those who envision a daytime event with outdoor games and picnics. When considering a park, it's essential to check for any required permits, available amenities, and potential noise factors.
Winery
While Napa is famous, LA's wineries, such as Malibu Wines, offer rustic charm amidst vineyards. Wineries provide a relaxed setting, often with options for wine tasting, making the event both elegant and enjoyable.
Beach House
A beach house in places like Malibu or Venice Beach offers stunning ocean views. The serene sound of waves and the relaxed beach vibe can set the tone for a laid-back, memorable celebration. Ensure the property allows events and consider factors like parking and accessibility for guests.
Community Center
Community centers, such as the Westchester Recreation Center, are spacious and budget-friendly. They often come with amenities like kitchens and sound systems, making them a versatile choice. They're especially suitable for larger guest lists and can be decorated to fit any theme.
Hotel
Luxury hotels like the Beverly Hills Hotel or The Ritz-Carlton exude elegance. They offer impeccable service, catering options, and beautiful banquet rooms. Hotels can also be convenient for out-of-town guests, providing accommodations and event space in one location.
Museum
Hosting a baby shower amidst art and history at places like The Getty or LACMA can offer a sophisticated and cultured ambiance. Museums provide a unique backdrop, making the event memorable. Ensure to check their event policies, especially regarding food and drink.
Art Gallery
An art gallery, like the Gagosian in Beverly Hills, offers a chic, modern environment surrounded by contemporary art. It's perfect for those looking for a trendy, upscale vibe. Consider the gallery's size and the type of art displayed when planning decor and themes.
Sports Club or Facility
For the active mom-to-be, venues like the LA Tennis Club provide a fun twist. They allow guests to engage in light sports or games, adding a unique touch to the celebration.
Banquet Hall
Regency Event Venue is a prime example of LA's elegant banquet halls. Known for its sophisticated design and top-notch services, it's perfect for a grand celebration. Banquet halls are designed for events, ensuring a seamless experience from lighting to sound.
Historic Home or Mansion
Historic venues like the Greystone Mansion in Beverly Hills offer a blend of elegance and history. They provide a timeless setting, often with beautiful gardens and architecture that requires minimal additional decor.
Boat or Yacht
Celebrating on the waters of the Pacific offers a unique experience. Chartering a boat or yacht provides breathtaking views of the coastline and a luxurious setting. Consider the size of the vessel and onboard amenities when planning.
Garden or Conservatory
A venue like the Los Angeles County Arboretum offers a lush, botanical setting. Gardens and conservatories are perfect for nature lovers and those envisioning a fairy-tale ambiance. Ensure to have a backup plan in case of unpredictable weather.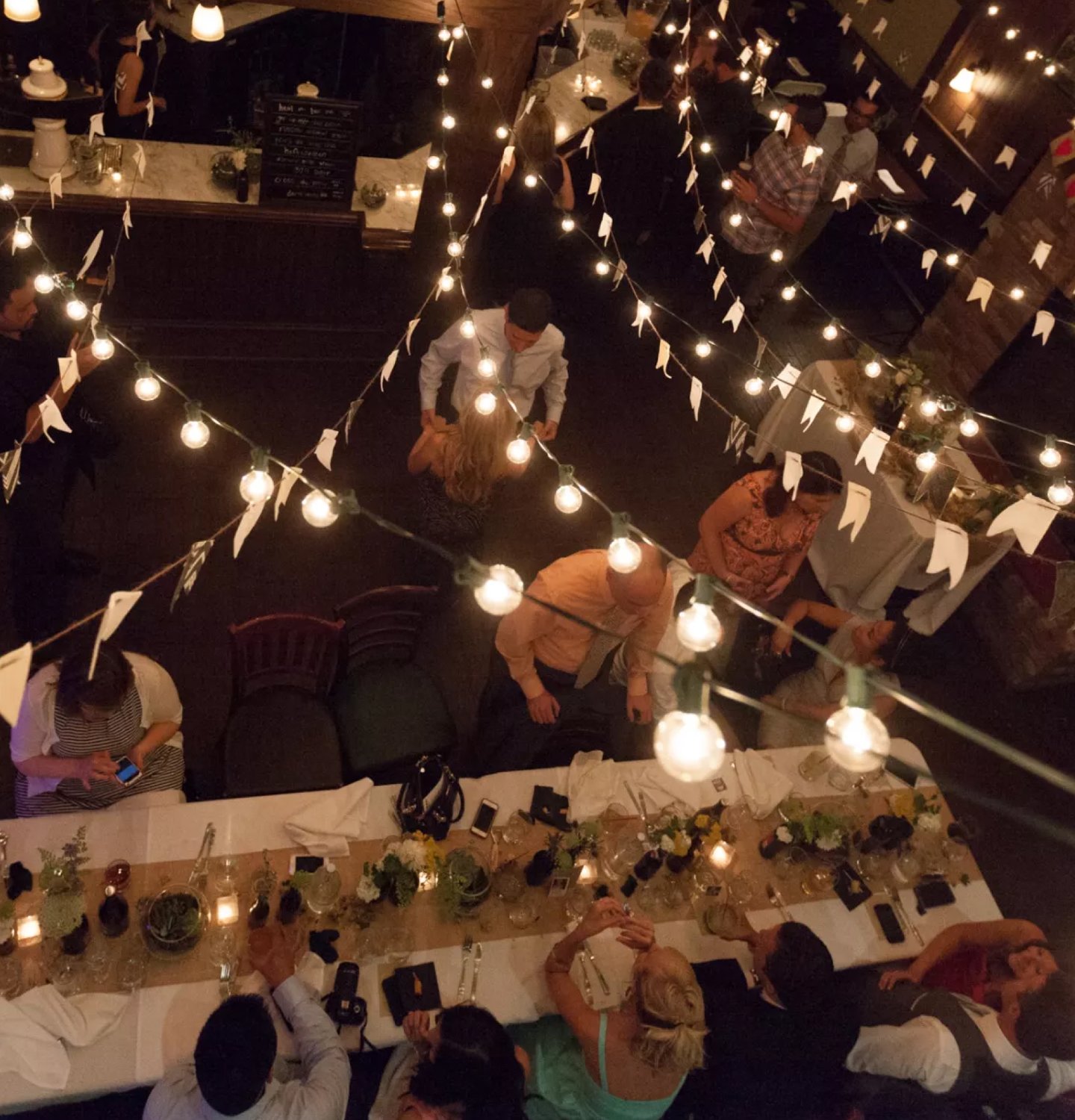 Brewery
Breweries like Golden Road Brewing offer a laid-back, casual vibe. They're perfect for younger crowds or those looking for a more relaxed atmosphere. Many breweries also offer tours, adding a fun activity to the event.
Bed & Breakfast
B&Bs like The Inn at Playa del Rey offer cozy settings, often with charming gardens or patios. They provide an intimate atmosphere, perfect for smaller guest lists.
Theater or Performing Arts Venue
Venues like the Dorothy Chandler Pavilion offer a touch of drama. The grand stages and seating areas can be used creatively, making the event stand out.
Loft or Industrial Space
Modern spaces in the Downtown Arts District offer an urban, chic design. Their open layouts can be customized to fit any theme, from rustic to modern.
Greenhouse
The SmogShoppe offers a lush greenhouse setting amidst an urban environment. It's perfect for those looking for a blend of nature and city vibes.
Campground or Cabin
For a rustic celebration, Topanga Canyon offers settings surrounded by nature. Campgrounds and cabins provide a relaxed, back-to-nature vibe, perfect for outdoorsy parents-to-be.
Tea Room
The Rose Tree Cottage in Pasadena offers traditional English tea services in a quaint setting. It's perfect for those envisioning an elegant, classic baby shower.
Dance Studio
A spacious dance studio can be transformed into a lively event space. It's perfect for dance-themed baby showers or those with interactive games and activities.
Beach or Lakeside Venue
Venues like Santa Monica Beach or Lake Balboa offer natural beauty and open space. The serene environment and the sound of water make for a tranquil setting.
Castle or Palace
The Magic Castle in Hollywood offers a unique, enchanting environment. It's perfect for those looking for a fairy-tale setting, ensuring a memorable event.
Finding the Perfect Venue
When choosing a venue in LA, it's essential to consider the guest list's size, the desired ambiance, and the budget. Online directories, social media platforms, personal recommendations, and local event planners can provide insights and reviews, helping you find the perfect spot.
Conclusion
Los Angeles, with its diverse venues and settings, is the ideal place to host a baby shower. From beachside venues to historic mansions, there's a perfect spot for every mom-to-be. As you plan, remember to consider the preferences of the